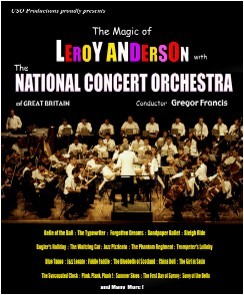 CLICK ON IMAGE TO VIEW
The music of composer Leroy Anderson is probably the most popular of all 'light popular' styles.

Encompassing a broad range of well known tunes such as 'Belle of the Ball' 'The Typewriter' 'Forgotten Dreams' 'Sleigh Ride' and many many more, over 25 of his best known compositions are featured.


CLICK ON IMAGE TO VIEW
Hear the 'classics' played by this wonderful Concert Orchestra in a refreshing popular style.

An astounding mix of pop and classical musicians combine to bring to you, the most popular classical tunes - played with a difference!